MAONO AU-MH601 Pro Studio Monitor Headphone
| | |
| --- | --- |
| Brands | MAONO |
| Model | AU-MH601 |
| Frequency Range | 15 – 22,000 Hz |
| Impedance | 47 ohms |
| Sensitivity | 96 dB |
| Cable Length | 3.0 m (9.8'), straight, left-side exit |
| Weight | 220g |
| Color | Black |
| Warranty | 6 months warranty (Warranty must be claimed with box and all accessories) |
MAONO AU-MH601 Pro Studio Monitor Headphone
MAONO AU-MH601 Pro Studio Monitor Headphones are professional DJ headphones with a dynamic bass sound, ideal for DJ digital mixer, mixer panel, turntable, monitoring in recording studios, radio, film production, video, electronic news gathering, and virtually any application where quality sound is required. it has a 50mm large-aperture driver for superior perfect hi-fi sound. The circumaural and comfortable design contours around the ears for excellent sound isolation even in a loud environment. This over-the-ear Headphone has an Ergonomic design for comfort. This headphone has a Professional-grade earpad and a strong adjustable headband for longer durability and maximum comfort. Collapsible and swiveling features a foldable and stretchable headband to fit the user's head and 180-degree swiveling earcups enable for easy one-ear monitoring. The 3.5mm jack ensures wide compatibility for PC, laptops, smartphones, tablets, and iPad, and the included 6.35mm adapter can be used for a mixer, phantom power, etc. Besides monitoring, also perfect for gaming, music, and podcasting. MAONO AU-MH601 Professional Studio Monitor Headphone offers 6 months warranty (Warranty must be claimed with box and all accessories).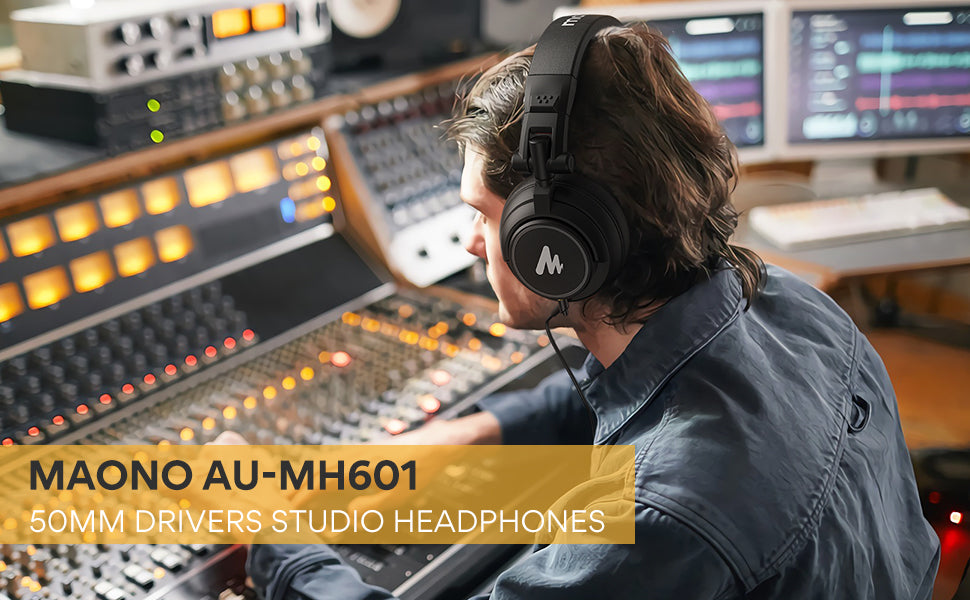 IMMERSIVE SOUND QUALITY, DESIGNED FOR MUSIC LOVERS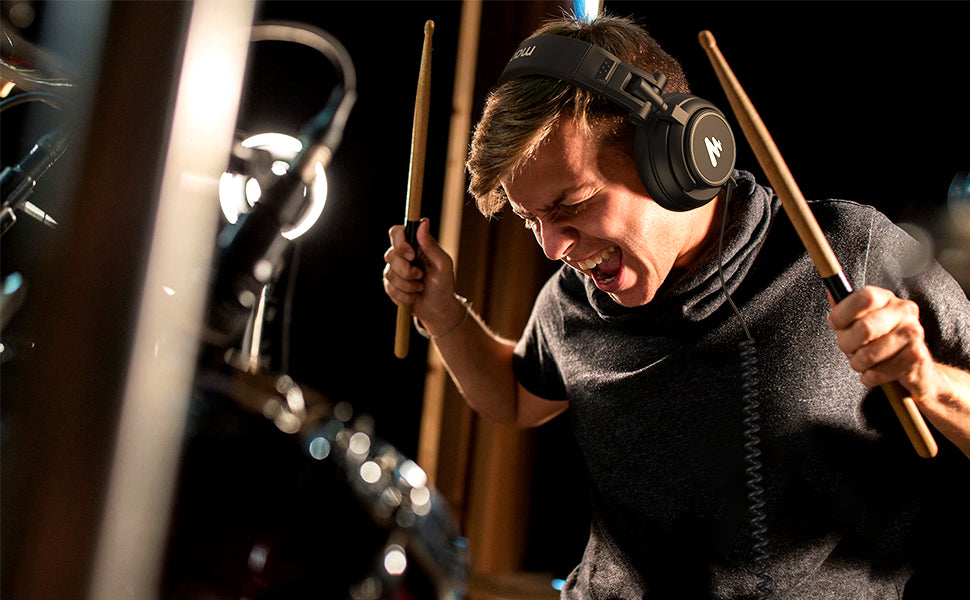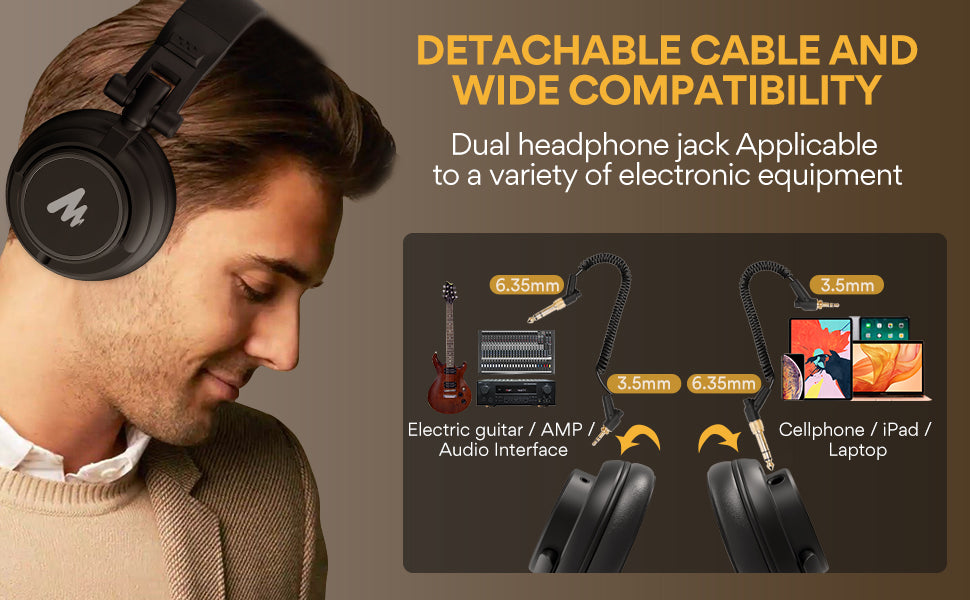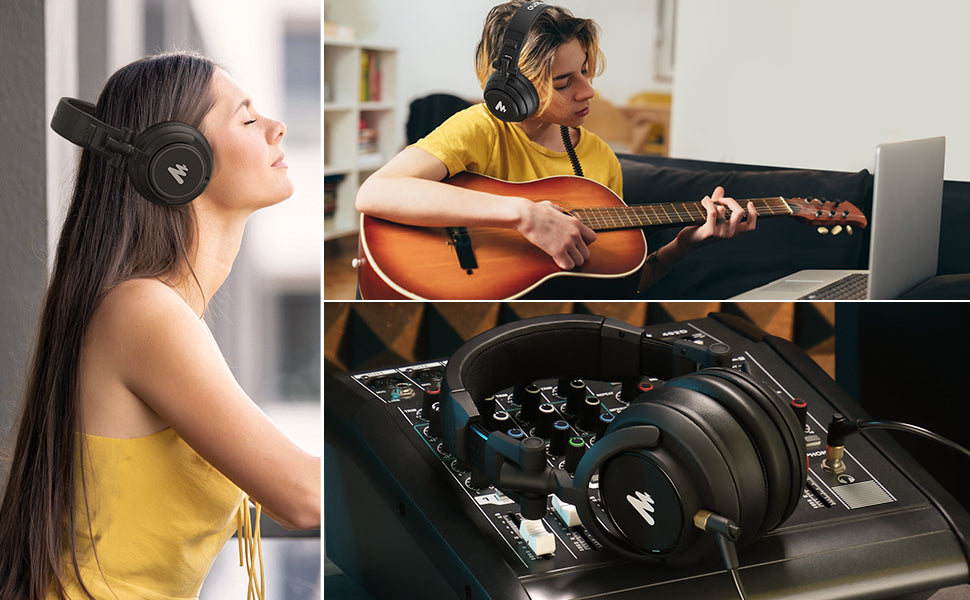 What different experiences that Maono AU-MH601 headphones can bring to you?
Sound:
The headphones perfectly reproduce the vocals or music from the PC or smartphone or other equipment to your ears.
When you record or podcast with a mic (like PM401/PM420, HD300T), it makes you listen in real-time, without latency delays. When you listen to music, you will fully feel the bass which makes you immersive.
Comfort:
The earmuffs made of protein material will bring you a more skin-friendly and silky experience. Extra-large and thick earmuffs will not make you feel stiff and tight when you wear the headsets for a long time.
Durable material:
Special materials and structure to prevent you from damage caused by squeezing or falling Durable materials and special structural design prevent your headphones from damage caused by squeezing or falling. These will extend the service life of the headsets.
Coil cable:
The extendable cable allows you to use it in various conditions. You can listen to music on the bed or watch movies with your friends. Also, you can monitor the sound that you record in real time outdoors.
At the same time, you don't have to worry about it tangling, when you don't want to use it, it will shrink to a very short length that will convenient for you to carry and store.